Nashville, also known as Music City, is a great place to visit for a variety of reasons. From its amazing music venues and vibrant nightlife, to its historic sites and delicious dining options, there's something for everyone in this southern gem. One of the city's most popular destinations is Broadway in downtown Nashville. Here you will find the best bars to visit when exploring this part of town!
Located in the heart of downtown Nashville, Broadway is home to some of the city's most popular entertainment venues. It is also lined with some incredible restaurants and bars that are perfect for an evening out on the town. Whether you're looking for an upscale cocktail bar or just a casual spot to grab a beer with friends, there's something here for everyone! Here are some of our favorite spots along Broadway:
Tootsie's Orchid Lounge: Tootsie's has been serving up drinks since 1960 and continues to be one of Nashville's top spots on Broadway. With live music every day from 3pm-3am, it's easy to see why this place draws such large crowds night after night. The atmosphere at Tootsie's is lively yet relaxed – perfect for those looking for an authentic dive bar experience without sacrificing quality drinks or good vibes!
Robert's Western World: This honky-tonk spot has been open since 1994 and offers visitors both traditional country music as well as rockabilly tunes all throughout the week (on Fridays they even have free line dancing lessons!). Robert's serves up classic dishes like pulled pork sandwiches and fries alongside cold domestic beers – making it one of our favorite places on Broadway!
The Stage: The Stage opened in 2009 but has already become a go-to destination due its live entertainment ranging from local bands playing rock 'n' roll hits from decades past all the way up through current pop stars taking over their stage nightly . Plus they serve up delicious food alongside their tasty cocktails which makes it an excellent spot if you're looking both dinner & a show while visiting Nashville!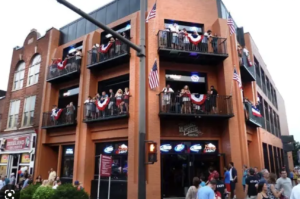 Honky Tonk Central: Located right next door to Robert's Western World (and connected by two separate doors), Honky Tonk Central offers visitors more than 40 different beers on tap alongside live music every single day until 3am . Their rooftop patio provides guests with stunning views overlooking downtown Nashville so make sure not miss out on checking out this location when exploring Broadway!
The Valentine: If you're looking for someplace more upscale then look no further than The Valentine located just off 5th Avenue North in downtown Nashville . This modern bar offers craft cocktails made with fresh ingredients as well as small plates inspired by international flavors making it ideal if you want an evening out that feels sophisticated yet still fun! The Valentine also has an incredible roof top bar!
Dierks Bentley's Whiskey Row : Named after country singer Dierks Bentley , his namesake whiskey row boasts three levels filled with great food , drinks , games , and plenty more fun activities like karaoke nights or even mechanical bull rides ! There are multiple locations around town but if your visiting during St Patrick ' s Day then make sure not miss out their special themed events which take place annually at their original location on lower broadway.
No matter what type of atmosphere your looking for , there are plenty options along broadway that will fit your needs perfectly ! Whether your searching craft cocktails at The Valentine or simply grabbing beers at Honky Tonk Central , there ' s something here waiting just around corner from you . So come check it out today – we know can ' t wait explore everything this iconic stretch of vibrant street has offer us!